News and events
This year, the LIMS User Meeting took place with the highest attendance ever. Almost 100 users attended our meeting at the Hotel Banana City on November 14, 2018.
After having enjoyed some coffee and pastry, Köbi Ehrensberger (CEO, AAC Infotray) opened the official part of the meeting with a short welcome and the introduction of AAC Infotray. Then exciting presentations followed. Our customers could learn about the latest innovations regarding Limsophy firsthand. The topics of these presentations were various and unique just as Limsophy LIMS itself. At the tables dedicated to specific topics, Limsophy users were able to discuss questions and concerns, which were especially important to them, together with our experts. After a tasty lunch, the afternoon continued with exciting and instructive presentations. When the official part was over, everyone enjoyed the aperitif in a relaxed atmosphere.
We want to thank all our customers for spending this day with us! And we want to thank you all for the great feedback you gave us afterwards!
On October 4, 2018, the second ILMAC LAUSANNE closed its gates. We were, of course, part of it with our Limsophy LIMS and now we are looking back on a well-attended and successful trade fair. Almost 1500 trade visitors came to Lausanne and took the opportunity to find out about the latest trends and innovations concerning chemical and life sciences. Thanks to Moving data in the lab 4.0, we were able to convince a lot of them to experience our Limsophy LIMS live and learn about improving their digitization strategy.
Thank you, dear visitors, for your interest in our Limsophy LIMS! We are pleased that we were able to inspire you with our digitization expertise.
The next ILMAC LAUSANNE takes place at the Expo Beaulieu Lausanne on October 7 and 8, 2020.
If we have also aroused your interest in our software and you would like further information, please do not hesitate to contact us at any time. We look forward to seeing you!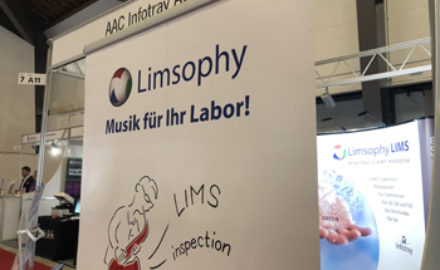 Passend zur kommenden Urlaubszeit segelt Limsophy BPM in neuem Wind.
Erleben Sie das neue Design unserer Webseite und lassen Sie sich zeigen,
wie modernes Qualitätsmanagement funktioniert.